Testimonials
Paso Robles Olive Festival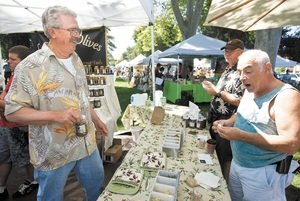 We participate in all local Olive Festivals and you'll also find us at many of the local Farmer's Markets. Please check out our events on Facebook and  Instagram.
La Bella Olives were named after the beautiful beaches of Pismo, where the company packages and distributes the gourmet olives they grow in Porterville, California. Stuffed with flavor-almonds, anchovies, spicy blue cheese, garlic, jalapeno, and more - these delightful finger foods are cured in salt brine for eight to nine months, the old-fashioned way, with no lye or sugars. La Bella also makes an Anti Pasto Italiano, marinated garlic cloves, and marinated veggies.
Mercury News, "Olives with a Twist" By Carolyn Jung
OLIVES WITH A TWIST: They're perfect in martinis, on antipasto platters, in salads, sautéed with chicken, stirred in pasta sauces or all on their own. They are La Bella Olives from California's central coast. These jarred olives with intriguing fillings are handy to keep in your pantry. They come stuffed with almonds, anchovies, blue cheese, garlic, jalapeno, sun-dried tomato, feta, or onion. A 10-ounce jar is available at www.labellaolives.com. They're also available at Burrell School Winery in Los Gatos, Deluxe Foods in Aptos, Shopper's Corner in Santa Cruz, Staff of Life in Santa Cruz, Ben Lomond Market in Ben Lomond and D'Anna's Flowers in San Jose.
Taste California Travel, by Marianne Lucchesi Hamilton
More than happy with our new discoveries, we were heading out the door when my mate's eyes took on a distinctive, lust-filled glaze. No, not from the wine. I followed his line of sight, expecting to see a nubile young thing beckoning with yet another bottle. Instead, I saw him salivating over... olives. Acres of olives. Olives of every color, size, and stuffing. These olives, as it turned out, were the prized products of La Bella, located near Pismo Beach. Grown in Porterville, La Bella Olives are cured in the "old-fashioned" way - in salt brine, for nearly a year. Turns out they're available in fifteen different varieties, stuffed with everything from anchovies to almonds, and pepper jack to pimentos. Let me be clear: I'm not an olive fan. I may be the world's only Italian who has ever owned up to this fact. I've spent half a century studiously avoiding what I considered to be the slimy, mushy, disgusting items. But these... these were something else entirely. La Bella Olives are crisp, crunchy, and wonderfully tangy. I popped one of their quarter-sized Bleu Cheese confections into my mouth, and became an instant convert. The perfectly salted olive flesh, rubbing up against the creamy blue cheese - it was a profound revelation. Ditto the marinated garlic, which would make a terrific salad-topper. Take it from this Italian: La Bella is truthfully named.
Customer Email
While vacationing in Sedona for our anniversary in mid-October, we visited a small winery in nearby Page Springs, Arizona. Along with some unique wine we found this intriguing jar of pickled Mustard Dill Garlic and decided to try it. WOW is all we can say. It has become one of our favorite additions to our martinis on "Martini Night." Not knowing where we might find your excellent product around Phoenix, we just placed an order for more of your wonderful product to be sent directly to us. Also, we decided to try some of your other products (Bleu Cheese stuffed olives also go well in martinis!) We're sure that they will be just as wonderful as our favorite. Best wishes for a wonderful holiday season and a prosperous New Year!

-Richard & Beverly Woodhead
Customer Email
Hello and Good Evening to the People who know olives better than anyone on the planet. PLEASE send us at least 12 jars of your La Bella, Gourmet, California Grown, Hand Stuffed, Sicilian Style Olives. They are, without a doubt, the very best olives we have ever had...(EVER...understand...EVER). They are absolutely the best. Delicious. Amazing.

We first encountered them on vacation in July when we drove down the coast on highway one. Our last stop was in San Luis Obispo to wine taste. Several wineries there sell your olives. Well...we purchased...we tasted...we are done. Loyal fans. I just ate the last one tonight and I am in a panic. Please send more. Please tell me what I need to provide to you to get them here as quickly as possibly!!

Thank you ever so much. Your olives ROCK!!!! Believe me...we're telling friends!!!!

Your new best friends...(OK...so there MAY be some others...)

Thank you. God Bless you!!! (and your olives!)

-Donna and Craig